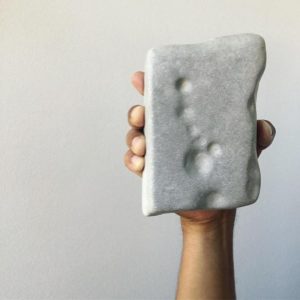 Michael Belmore employs a variety of materials and processes that at times may seem disjointed, yet, the reality is that together his work and processes speak about the environment, about land, about water, and what it is to be Anishinaabe. A graduate of the Ontario College of Art & Design, he completed his Masters of Fine Art at the University of Ottawa in 2019.
Practicing for over 25 years, Belmore is an internationally recognized artist and is represented in the permanent collections of various institutions including the National Gallery of Canada, the Art Gallery of Ontario, and the National Museum of the American Indian – Smithsonian Institute. Belmore is a member of Unsettled Ground Artists Inc and is currently involved in the creation of a multi-year public art project for four light rail stations as part of Phase 2 of Ottawa Light Rail. His exhibitions include: Every. Now. Then: Reframing Nationhood at the Art Gallery of Ontario, Toronto, ON, Shapeshifting: Transformations in Native American Art at the Peabody Essex in Salem, MA and HIDE: Skin as Material and Metaphor at the National Museum of the American Indian – George Gustav Heye Centre in New York.
Seemingly small things, simple things, inspire his work; the swing of a hammer, the warmth of a fire, the persistence of waves on a shore. Through the insinuation of these actions, a much larger consequence is inferred.
The North American landscape, especially its watersheds, continues to be shaped by our divergent tendencies to that of nature. Rivers have been dammed, streams redirected and wetlands drained all in order to better satisfy the demands of western society. Over the past few years my practice has focused primarily on stone carving and the traditional metal smithing technique of chasing and repoussé. Through the arduous process of hammering copper, I have continued to map out waterways through calculated and miscalculated blows.
(Read mskwi•blood•sang essay)