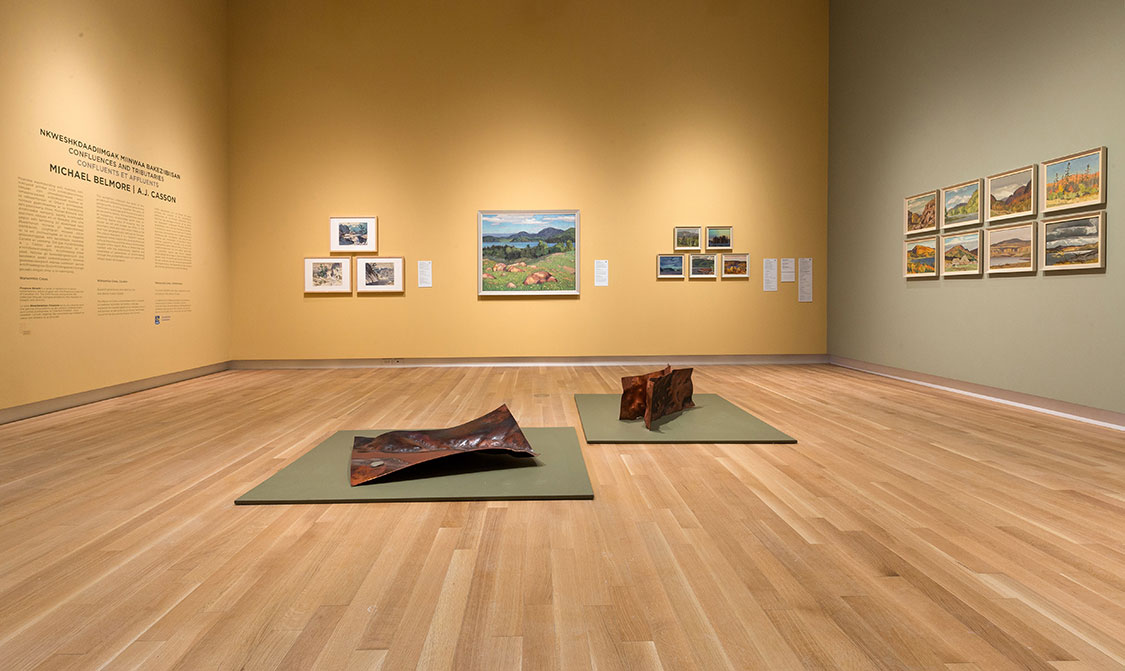 OTTAWA ART GALLERY |

October 11, 2018 – March 17, 2019
CURATORIAL ESSAY: Wahsontiio Cross
Landscape paintings created by the Group of Seven have frequently been criticized by art historians and Indigenous scholars on their commodification of the land and their exclusion of human presence. This has often meant the invisibility of Indigenous peoples and their experiences and knowledge of the places depicted in their work.
In riverways, confluences are the sites at which smaller waterways, or tributaries, meet and feed into the waters. In a similar manner, the works of the two artists featured in this exhibition have separate but overlapping influences which provide a deeper understanding of the topographical, historical, cultural and spiritual elements of landscape.
Michael Belmore (b. 1971) asserts an Indigenous, Anishinaabe world view, re-affirming cultural knowledge into the stories told by the mountains, lakes and rivers which make up the land now geographically defined as Canada. The places depicted in Casson's ɶuvre are places which, historically, bore spiritual and cultural importance to the various Indigenous peoples of the region. Many of these sites are marked with the experiences, legends and knowledge of generations of Anishinaabeg through the pictographs (rock art) which still inhabit these landscapes.
The youngest member of the Group of Seven, A.J. Casson (1898-1992) combined a graphic style from his days as a commercial artist with his love of nature to create plein air painted sketches while driving throughout Southeastern Ontario capturing images of its wilderness and rural homesteads. Though many of these sketches were later turned into larger paintings, such as Lake Kashagawigamog, Haliburton (1925), the sketches themselves created in the field, stand on their own as colourful compositions of the Ontario landscape as seen at various times of day and every season.
Both artists, though coming from different cultural and generational backgrounds, share an affinity for nature and a respect for the land which can be expressed in their art-making processes. Both grew up with the land as their teachers: as a child, Casson's family spent their summers in the Guelph area, where he enjoyed fishing and hunting rabbits;(1) Belmore frequently spends time in the bush and on the water and collects his materials and ideas directly from the land. The landscape surrounding Lake Superior is a place which is integral to his personal and cultural history, as seen in Landing I and Landing II (2008), which features the topography of Lac Des Mille Lacs and Lake of Bays ritualistically hammered out into the copper sheets.(2)
Belmore's choice of working with copper reflects an Anishinaabe cultural belief that the red glow emitted by the metal represents the mskwi [blood] of two manitous [spirits]: the animikiig [thunderbird] which inhabits the sky realm, and the mishibizhiig [underwater panther] which inhabits the water realm. Their interconnectedness brings balance as their energy flows between contrasting elements across the landscape. Members of the Group of Seven, including Casson, used Post-Impressionist painting techniques to attempt to capture the emotional and spiritual essence of the Canadian landscape.(3) In a similar manner, there is a kindred energy which flows through the work of both Belmore and Casson, honouring the landscape in their own ways.
1 Marilyn Linton, "Casson Paints his love for outdoors," Toronto Sun (July 20, 1978), 82
2 Ryan Rice, "Scout's Honour," Scouts Honour (Lethbridge, AB: University of Lethbridge Art Gallery, 2008), 8, 13
3 Alexandra Kahsenni:io Nahwegahbow, "mskwi/blood/sang," mskwi/blood/sang (Ottawa: Karsh Masson Gallery, 2017).

This exhibition marks the first in OAG's Firestone Reverb series, where contemporary artists are invited to respond to selections drawn from the Firestone Collection of Canadian Art by putting new work into conversation with this respected collection of historical art.
More info on Ottawa Art Gallery website.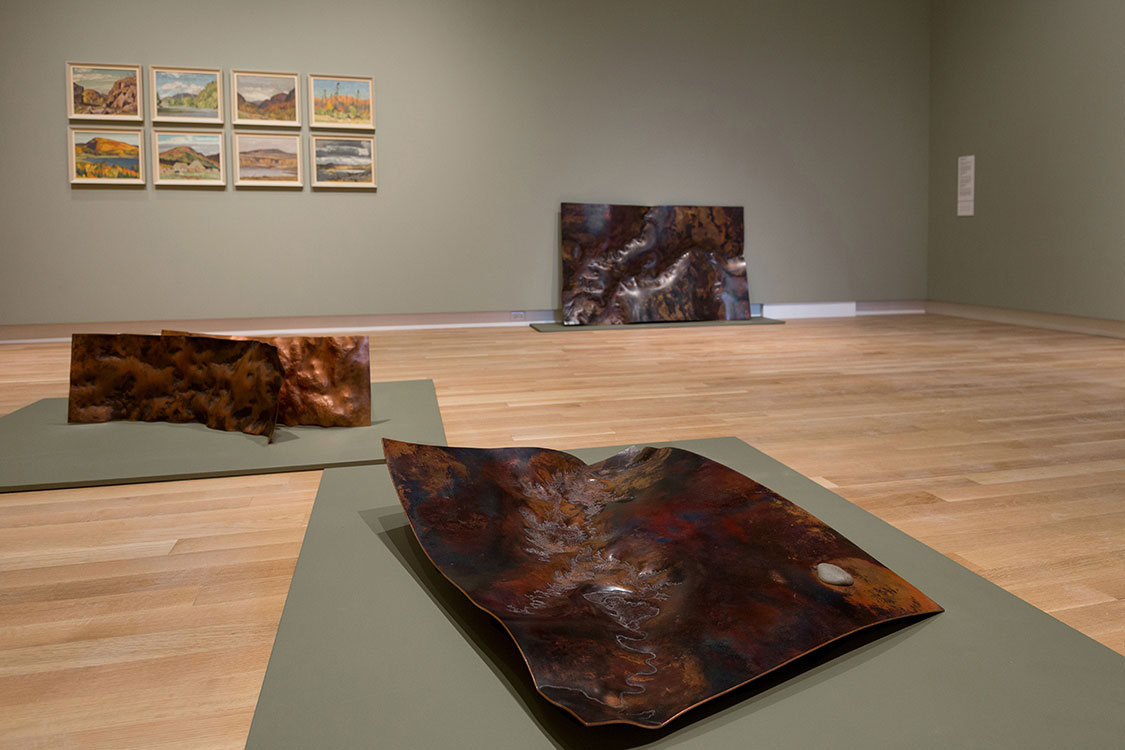 IMAGES: Julia Martin