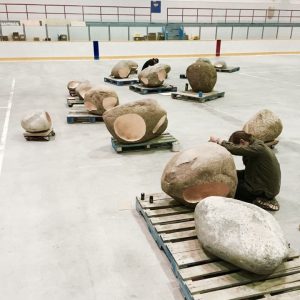 EDUCATION
SELECTED SOLO EXHIBITIONS
SELECTED GROUP EXHIBITIONS
PUBLIC ART COMMISSIONS
AWARDS
COLLECTIONS

RELEVANT COMMUNITY ENGAGEMENT EXPERIENCE
Landmarks2017 was a Canada 150 Fund Signature Projects. Funded by the Government of Canada. Major Partners included; Partners in Art, Parks Canada, and TDBank. Landmarks2017 involved 100 art projects, 12 leading art projects, 16 universities 20 national parks, and historic sites. As one of the lead artists, Michael worked with three national parks, and several settler and First Nations communities. A large component of this project comprised of outreach to students at both the university and elementary levels.
The Nigig Visiting Artist Residency, hosted by the Indigenous Visual Culture Program at OCAD University, was a program that in 2015 provided Michael an opportunity to visit OCAD University for 3 weeks to focus on a short-term project and explore, in a collaborative environment, issues impacting his work. This offered an opportunity to engage and interact with students and faculty in the capacity of mentorship, critique, lecture, and a public workshop/demonstration. The Nigig Visiting Artist Residency supports the dynamism located in Indigenous contemporary art practice and is a tremendous educational opportunity for the artist and students.
MISHI, The History of Indigenous Peoples (HIP) Network, is based at York University and housed in the Robarts Centre for Canadian Studies, and the Ojibwe Cultural Foundation (OCF), located on Manitoulin Island, hosted a Manitoulin Island Summer Historical Institute (MISHI), in 2017. MISHI is an annual event in Anishinaabe history that brings together students, teachers, knowledge-holders, and other researchers for a week-long summer institute on Manitoulin Island. Michael was invited to share his knowledge and insights and give the gatherings closing remarks.
EDUCATION
2017-2019 MFA, University of Ottawa
1990-1994 AOCA, Ontario College of Art, Sculpture/Installation.

SELECTED SOLO EXHIBITIONS
2024   TBA, Tom Thomson Art Gallery, Owen Sound, Ontario, Canada
2023   Ninaaseg, Saugatuck Center for the Arts, Saugatuck, Michigan, United States
2020   (Bel)more, Art Gallery of Ontario, Toronto, Ontario, Canada
2020   Cascade, Toronto Sculpture Garden – Nuit Blanche 2020, Toronto, Ontario, Canada
2018   Somewhere Between Two States of Matter, Art Gallery of Southwestern Manitoba, Brandon, Manitoba, Canada
2018   thunder sky turbulent water, Central Art Garage, Ottawa, Ontario, Canada
2017   Aashagan, Ojibway Cultural Foundation, M'Chigeeng, Ontario, Canada
2017   mskwi = blood, Karsh-Masson Gallery, Ottawa, Ontario, Canada
2016   fenda, Nogueira da Silva Museum, Braga, Portugal
2015   Michael Belmore, Royal Melbourne Institute of Technologies Project Space Gallery, Melbourne, Australia
2013   Toil, Woodstock Art Gallery, Woodstock, Ontario, Canada
2010   Overland, Karsh-Masson Gallery, Ottawa, Ontario, Canada
2009   Embankment, Station Gallery, Whitby, Ontario, Canada
2006   Downstream, Forest City Gallery, London, Ontario, Canada
2005   Stream, Rails End Gallery, Haliburton, Ontario, Canada
2002   Vantage Point, Sacred Circle Gallery of American Indian Art, Seattle, Washington, United States
2001   fly by wire, AKA Artist Run Centre/Tribe, Saskatoon, Saskatchewan, Canada
1996   Reformation, Garnet Press Gallery, Toronto, Ontario, Canada
SELECTED GROUP EXHIBITIONS
2022   Triennale Banlieue, Maison des Arts de Laval, Laval, Québec
2022   Wayekwaajiwan – Watershed, University of Michigan Museum of Art, Ann Arbor, Michigan
2022   wāwīndamaw – promise: Indigenous Art and Colonial Treaties in Canada, North American Native Museum, Zurich, Switzerland
2020   offering, Art Gallery of Peterborough, Peterborough, Ontario, Canada
2019   Echoing the Land, Indigenous Art Centre Gallery, Crown-Indigenous Relations and Northern Affairs Canada, Gatineau, Québec, Canada
2019   Ways of Being: Yhonnie Scarce & Michael Belmore, Museum of London, London, Ontario, Canada
2019   Michael Belmore – Édfice, Axenéo7, Gatineau, Québec, Canada
2019   Sense of Site, Art Gallery of Nova Scotia, Halifax, Nova Scotia, Canada
2019   RE:Defined, Heard Museum, Phoenix, Arizona, United States
2018   Nkweshkdaadiimgak Minwaa Bakeziibiisan | Confluences and Tributaries: Michael Belmore and A.J. Casson, Ottawa Art Gallery, Ottawa, Ontario, Canada
2017   Landmarks2017/Repères2017, Canada's National Parks – Wapusk, The Forks, Riding Mountain, Grasslands, Manitoba, Canada
2017   Every. Now. Then: Reframing Nationhood, Art Gallery of Ontario, Toronto, Ontario, Canada
2017   Landfall and Departure: Prologue, Nanaimo Art Gallery, Nanaimo, British Columbia, Canada
2017   It's Complicated, Central Art Garage, Ottawa, Ontario, Canada
2016   Boundless, Definitely Superior Art Gallery, Thunder Bay, Ontario, Canada
2015   Into the Woods: Two Icons Revisited, Art Gallery of Ontario, Toronto, Ontario, Canada
2015   Rocks, Stones and Dust, Justina M. Barnicke Gallery, Toronto, Ontario, Canada
2015   N2N: Widening the Narrrows, Orillia Museum of Art & History, Orillia, Ontario, Canada
2015   Eco-Indian, Wanuskewin, Saskatoon, Saskatchewan, Canada
2014   Land, Art, Horizons, North American Native Museum, Zurich, Switzerland
2014   Reading the Talk, Robert McLaughlin Gallery, Oshawa, Ontario, Canada
2014   The Bonnie Blink Project, Centennial Museum, Sheguiandah, Ontario, Canada
2013-14   Before and After the Horizon: Anishinaabe Artists of the Great Lakes, National Museum of the American Indian – George Gustav Heye Center, Smithsonian Institution, New York, New York, United States; Art Gallery of Ontario, Toronto, Ontario, Canada
2012   Shapeshifting: Tranformations in Native American Art, Peabody Essex Museum, Salem, Massachusetts, United States
2012   Changing Hands: Art Without Reservation 3, Museum of Arts & Design, New York, New York, United States
2012   Material Wealth: Revealing Landscape, South Vitrines at Harbourfront Centre, Toronto, Ontario, Canada
2011   Oh Canada!… beyond trees and water, Elaine L. Jacob Gallery, Wayne State University, Detroit, Michigan, United States
2011   Close Encounters: The Next 500 Years, International Exhibition of Contemporary Indigenous Art, 109 Pacific Avenue, Winnipeg, Manitoba, Canada
2010   HIDE: Skin as Material and Metaphor, National Museum of the American Indian – George Gustav Heye Centre, Smithsonian Institution, New York, New York, United States
2010   Ice Follies, WKP Kennedy Gallery, North Bay, Ontario, Canada
2010   Warm Ice, Art Gallery of Peterborough, Peterborough, Ontario, Canada
2008   Scout's Honour, University of Lethbridge Art Gallery, Lethbridge, Alberta, Canada; Urban Shaman Gallery, Winnipeg, Manitoba, Canada; Museum London, London, Ontario; Museum of Contemporary Native Art, Institute of the American Indian Arts, Santa Fe, New Mexico, United States
2007   Terra Incognita, Macdonald Stewart Art Centre, Guelph, Ontario, Canada
2007   What is Place, Tree Museum, Gravenhurst, Ontario, Canada
2005   Cornerstone, Gallery 101, Ottawa, Ontario, Canada
2004   The Three Rivers…wild waters, sacred places, Yukon Arts Centre, Whitehorse, Yukon, Canada; Robert McLaughlin Gallery, Oshawa, Ontario, Canada; Maltwood Art Museum & Gallery, University of Victoria, British Columbia, Canada; Kelowna Art Gallery, Kelowna, British Columbia, Canada; Art Gallery of Peterborough, Peterborough, Ontario, Canada; Whyte Museum & Gallery, Banff, Alberta, Canada
2004   Dreaming Earth & Sky, Odd Gallery, Dawson City, Yukon, Canada
2001   Hilando Fino, Aspace, Toronto, Ontario, Canada
2001   Pool, York Quay Gallery, Harbourfront Centre, Toronto, Ontario, Canada
2000   Beaver Tales, Oakville Galleries, Oakville, Ontario, Canada
1997   staking Land claims, Walter Phillips Gallery, Banff, Alberta, Canada
1994   Naked State – a selected view of Toronto art, The Power Plant, Toronto, Ontario, Canada
PUBLIC ART COMMISSIONS
2022   Gathering, Nogojiwanong – the Place at the Foot of the Rapids, Peterborough, Ontario, Canada
2020   A Gathering, Concord Adex Investments Limited, North York, Ontario, Canada
2018   Terroir, Canadian Chancery, Paris, France
2018   Ebb & Flow, Concord Adex Investments Limited, North York, Ontario, Canada
2017   Landmarks2017/Repères2017, Canada's National Parks – Wapusk, Riding Mountain, Grasslands, Manitoba, Canada
2015   Replenishment, Kagawong River, Kagawong, Ontario, Canada
2014   Inhalation, Sentier Art3, Sainte-Therese, Québec, Canada
2014   Echo, Joel Weeks Park, City of Toronto, Toronto, Ontario, Canada
2007   Colony, Macdonald Stewart Art Centre, Guelph, Ontario, Canada
2004   Digital Stream, University of Western Ontario, London, Ontario, Canada
2001   Esker, Kawartha Rotary Sculpture Project, Peterborough, Ontario, Canada
2000   Fireline, Thunder Bay Art Gallery, Thunder Bay, Ontario, Canada
AWARDS
2015   Ontario Arts Council – Chalmers Fellowship
2014   Canada Council – Project Grant
2013   Ontario Arts Council – Aboriginal Arts Research Grant
2010   Ontario Arts Council – Visual Arts Grant
2009   Canada Council – Project Grant – Travel Grant
2007   Ontario Arts Council – Visual Arts Grant
2005   Canada Council – B Grant
2004   Canada Council – Travel Grant
2003   Ontario Arts Council – Visual Arts Grant
2002   Canada Council – Travel Grant
2001   Canada Council – B Grant
2001   Ontario Arts Council – Visual Arts Grant
1999   Canada Council – Travel Grant
1999   Ontario Arts Council – Visual Arts Grant
1998   Canada Council – B Grant
1998   Ontario Arts Council – Exhibition Assistance through The Power Plant
1997   Ontario Arts Council – Visual Arts Grant
1997   Toronto Arts Council – Project Grant
1996   Canada Council – Emerging Artist Grant
1996   Ontario Arts Council – Visual Arts Grant
1995   Toronto Arts Council – Project Grant
COLLECTIONS
Agnes Etherington Art Centre
Art Gallery of Peterborough
Art Gallery of Ontario
Canada House
Indigenous Art Collection, Crown-Indigenous Relations and Northern Affairs Canada (CIRNAC)
Macdonald Stewart Art Centre
MacKenzie Art Gallery
McMichael Canadian Art Collection
National Gallery of Canada
National Museum of the American Indian – Smithsonian Institution
North American Native Museum
Ontario College of Art & Design University
Thunder Bay Art Gallery
Woodstock Art Gallery
Yukon Arts Centre
& numerous private collections
back to top