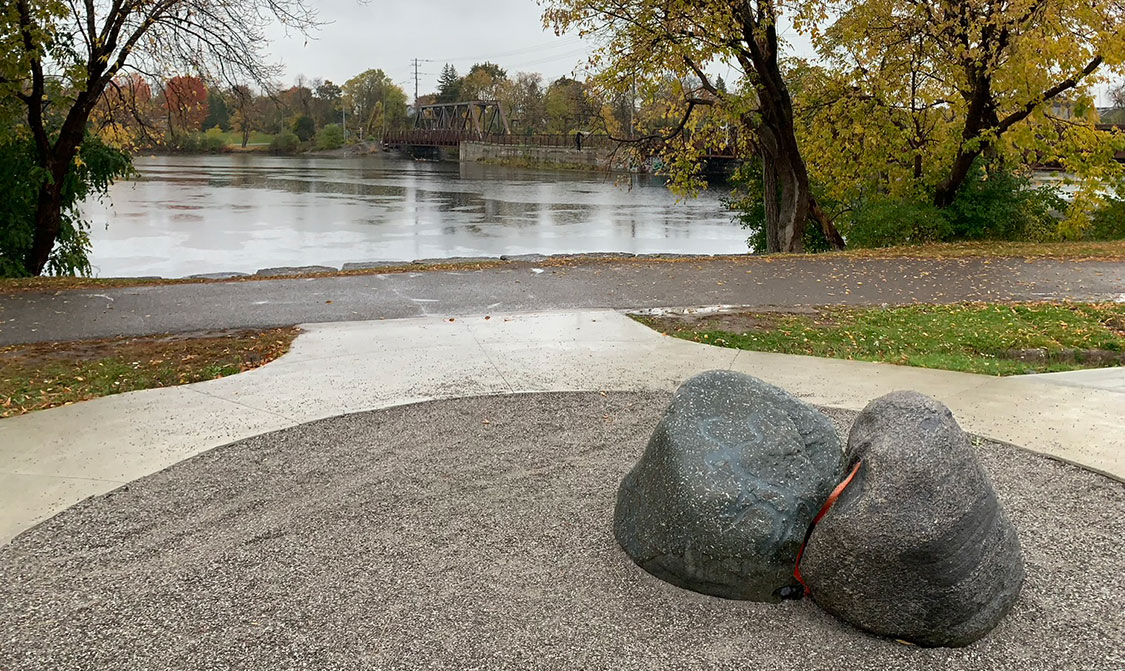 2022 Gathering | Nogojiwanong Project, Peterborough, Ontario
From City of Peterborough:
Nogojiwanong is an Anishinaabe word meaning "place at the foot of the rapids" and the name given to the gathering place at the bottom of a turbulent stretch of the Otonabee River, renamed Peterborough by European settlers.
The Nogojiwanong Project is collaboration undertaken in the spirit of kinship between local First Nations, Indigenous peoples and the City of Peterborough in recognition of the 200th anniversary of Rice Lake Treaty No. 20 – the agreement between the Michi Saagiig peoples and the British Crown that made it possible for Europeans to settle in this region.
Read more on the City of Peteborough website.
2020 Cascade | Nuit Blanche, Toronto, Ontario
Cascade consists of a single carved stone awaiting the return of an aqueous embrace. Not unlike the river systems which we all travel, our experiences mimic the flow of water, sometimes trickling in our collective consciousness like a small creek from a glacial melt and sometimes rushing like a torrential waterfall created by spring runoff.
2020 A Gathering | North York, Ontario
Stone was once liquid, once fire, once lucid from the confines of its solid state; they ebbed and flowed like water beneath the islands from which we build our lives.
These boulders are travelled stone, they are from away, they have been picked up by ancient glacial forces and moved to the area where we now find them. In embellishing the stone, I am endeavouring to speak of how they have been worn and rounded by water, rolled under ice, and even how they descended through the retreating ice to find themselves where they are now. Ebb and Flow is a honouring of their journey
Concord Park Place's Woodsy Park to Open Spring 2019, Urban Toronto, October 17, 2018 by Craig White
Whether it's a window display, a photo on a wall or a carved boulder, there's art to be seen — in person — in Toronto, Toronto Star, May 22, 2020 by Shawn Micallef