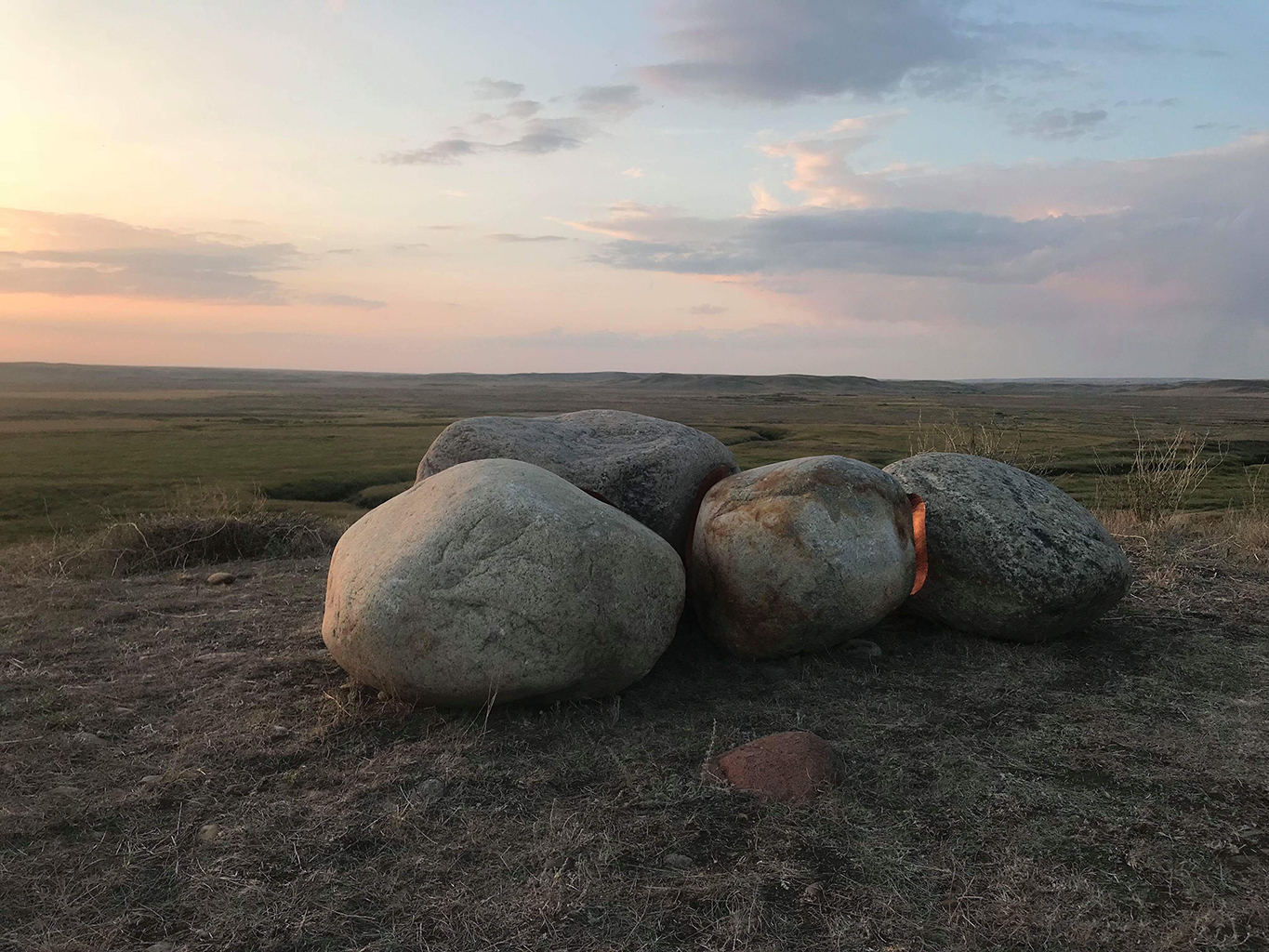 Coalescence, Grasslands National Park, Saskatchewan

ABOUT THE LANDMARKS PROJECT
LandMarks2017/ Repères2017 invites people to creatively explore and deepen their connection to the land through a series of contemporary art projects in and around Canada's National Parks and Historic Sites from June 10-25, 2017.
LandMarks2017/Repères2017 inspires dialogue about people, places and perspectives that have shaped our past and are vital to our futures.
ABOUT COALESENCE
Michael Belmore's Coalescence was conceived as a single sculpture in four parts. Sixteen stones, ranging in weight from 300 to 1,200 pounds, are fitted together and inlaid with copper, then situated to frame the vast distance between the southernmost boundary of the Laurentide Ice Sheet near Grasslands National Park in Saskatchewan, to one of its points of drainage into Hudson Bay in Churchill, Manitoba.
Sites in Riding Mountain National Park and The Forks National Historic Site, both in Manitoba, punctuate the stones' migration. Together, the four locations mark meeting points between water and land: ancient shorelines, trade routes and meeting places, sites of annual mass migrations of animals, as well as the forced displacement of peoples.
Belmore uses copper as a way to invest the stones with labour and value. The stones come against each other to create a perfect fit, while their concave surfaces move apart slightly to reveal the warm glow of copper to reflect light. Each crevice is filled with a fire that will be extinguished with age, turning brown, then black, and reaching a luminous green hue as it settles into the landscape. They are a marker of how everything comes from the ground and returns to it, and how these processes stretch far beyond human understanding of time.
Belmore has created a moment of connection between deep geological time of stone and the linear human time of labour. On the occasion of the 150th anniversary of Confederation, this connection acts as a reminder of how the timelines of national celebration do not take into account the timelines of the land on which they take place. The stones were going to traverse a land familiar with rising and falling waters to reach their locations, but spring 2017 brought a record snowstorm and a spring melt that washed out the rail line that serves as the main transport artery between Churchill and southern Manitoba.
The political negotiations that followed have left the responsibility for its repair unresolved — part of the continued legacy of colonialism, the challenges of northern transportation and migration, and the importance of international trade routes that go back to Canada's first trading posts. Belmore's piece remains intact in Churchill, its splitting and migration halted by the processes that reach out from its conceptual core.
In response to Belmore's piece, Leanne Zacharias' Sounding the Wake of the Glacier is a composition that functions as a map of sound, weaving the environments of Wapusk, Grasslands and Riding Mountain National Parks and The Forks Heritage Site together through field recordings, transcription of animal calls and musical interpretation of climatic maps of the four regions.
LANDMARKS PROJECT | PROCESS IMAGES | MAP OF SITES | SCULPTURE IMAGES | SOUND THE WAKE OF THE GLACIER SOUNDTRACK